This month's cloth diaper carnival topic is cloth diapering a newborn. You can find out more and read other posts at Dirty Diaper Laundry.
We put our first cloth diaper on Violet when she was 4 days old. Basically, we waited until the meconium had all passed, and then began. 99% of the time we used prefolds with Thirsties XS covers. The picture below was taken when she was about a week old.

We used unbleached prefolds with snappis. I exclusively used the bikini twist fold as it was as easy as easy can be. Even for those middle of the night changes with one eye open in the dark, it worked well. Prefolds are great for newborns because you can go through so many diapers a day. They're relatively inexpensive (under $4 a diaper) and with about 3-5 covers in your stash, you can cloth diaper your newborn on a low budget. We had three Thirsties covers in rotation for her and were able to wash every other day. We had about 36 prefolds in our stash in the beginning.
We also used some XS Thirsties all-in-ones and XS Happy Heinies, but we had frequent leaks with them. Obviously every child is different, so just because we had leaks with them doesn't mean that everyone will.
Violet at 3 weeks old in a Happy Heiny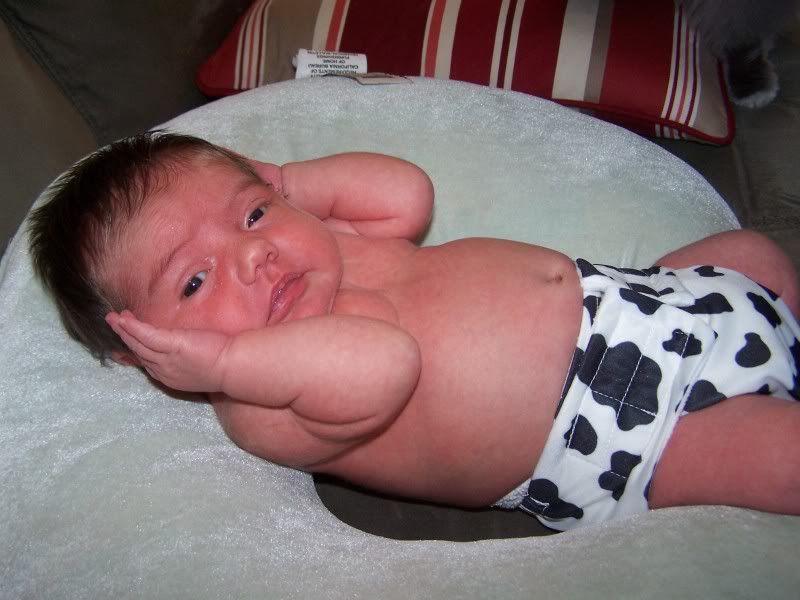 When she turned a month old, we started putting her in BumGenius one-sized pockets. Those worked wonderfully for us. We also used some size small DryBees AIOs and pockets. I often used a Drybees AIO with 2 hemp inserts for overnight diapers once she was about a month old.
Violet at one month in a BumGenius 3.0

The fact that I have heard about so many babies having blowouts in sposies makes me VERY glad that we cloth diapered from the beginning. Violet has had one blowout. Ever. And I'm pretty sure that's because I had her in a Bronco outfit and she feels the same way about them that I do! We have had a great experience cloth diapering and had no issues doing it from the beginning. I won't hesitate to do so if we ever have another child!

Powered by MckLinky
Click here to enter your link and view the entire list of entered links…